The COVID-19 epidemic cannot stop ANKE's international sales & marketing members to forge ahead!
Arab International Medical Equipment Exhibition (Arab Health) is one of the world's largest and professional comprehensive medical equipment exhibitions, and it is also the premier exhibition in the Middle East and North Africa. This year, Arab health adopted the Hybrid exhibition way to provide appearance opportunities both for live participants and online attendees. Due to the COVID-19, although it's a pity that many companies could not attend on live and only choose to attend via online show, but it still gathered more than 2000 exhibitors and over 24500 on site audiences and over 26000 online audiences. To compared with the exhibitions in previous years, the number of participants this year has dropped significantly, but Arab Health is still the largest comprehensive medical exhibition after the post-epidemic era.
In recent years, ANKE has been committed to the vigorous expansion of overseas markets. Through the efforts, we have set up offices in Egypt in the Middle East, and the Nigerian market in Africa is also continuing to discover. In the overseas market, because COVID-19 outbreak has brought a lot of inconvenience to our international business development, ANKE has been moving forward courageously and has not flinched in the development of the international market. At Arab Health 2021, ANKE has become one of the few Chinese exhibitors of imaging products to participated in, it is the only Chinese MRI and CT manufacturer at the exhibition.
From 21 to 24, ANKE brought our latest high end multi-slice CT scanner ANATOM S800 had a wonderful debut in the 46th Arab Health. Last month, we had successfully attended the 85th CMEF and the theme of "35 Prosperous Years, Imaging Your Dream" to share our passion of advanced technology and persisted imaging dreams. One month later, we continue to share our imaging dreams with our overseas friends. Although COVID-19 pandemic is not over yet, ANKE's international team members are still go overseas fearlessly to expand the overseas business development.
In addition, 2021 is also ANKE's 35th anniversary. At the exhibition site, we grandly released our latest promo film to tell our global friends ANKE's story. Also, ANKE presented our latest fully AI-powered multi-slice CT scanner ANATOM S800 and showed the outstanding functions. The concise and atmospheric design and functional combination of ANATOM S800, as well as the professional explanation of ANKE's marketing personnel, attracted countless audiences.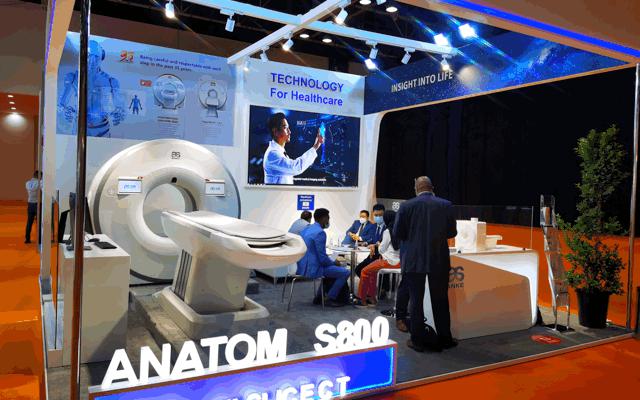 During the four days, ANKE had received the clients over 30 countries and regions includes Saudi Arabia, UAE, Israel, Jordan, Palestine, Egypt, Morocco, Algeria, Tunisia, Italy, Portugal, Romania, Albania, Moldova, Yemen, Ethiopia, Kenya, Cameroon, Ghana, Oman, India, Pakistan, Nepal, Kazakhstan, Tajikistan, Uzbekistan, Russia, the United States, Brazil, and so on. Arab Health 2021 has made new contributions to ANKE's international business expansion this year.