Personnel training
The company aims at serving the interests of enterprises and employees, respects the personality and development requirements of employees on the basis of sustainable and stable development of the company, continuously improves the quality and working skills of employees through diversified and diversified training, and builds up the human resources caused by the inadequate abilities and inactive attitudes of employees. This waste is controlled to a minimum, providing all kinds of qualified managers and professionals for the company.
Induction training for new employees
Anke's training for new employees covers the company's corporate culture, development process, product knowledge, company management system, quality management system, fire safety, operation process and other aspects. According to different jobs and nature of work, personalized training programs are formulated. Through training, we can strengthen the new employees'understanding of the company and their positions, and enhance their recognition of the company and their confidence in the work.
Management Training Camp for Trainees
Safety Management Training Camp aims at the induction training of college students and interns. Through a series of courses, students can quickly integrate into the team, understand the company culture and complete the role change.
After the training, one-to-one tutor counseling will be arranged to help students master working skills and be competent for the job in the shortest time.

On-the-job training
Including professional training, quality management training, comprehensive training, academic education and qualification education.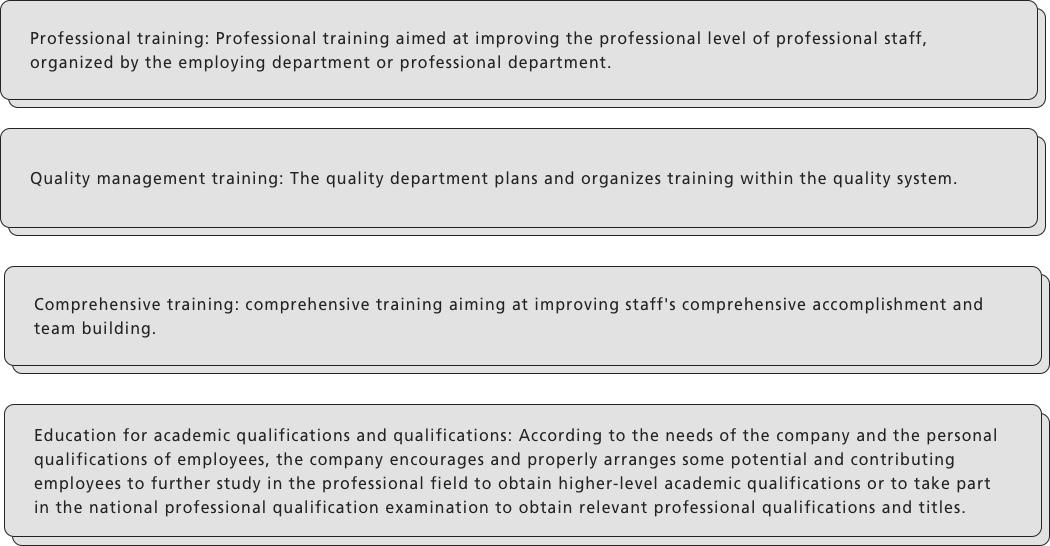 Salary and benefits
Dual weekend rest 7.5 hours, working hours: 8:30-12:00, 13:00-17:00;
Purchase of five insurance and one fund;
Business visas for Shenzhen and Hong Kong and Macao;
Organize annual physical examination;
The company provides staff canteen, free lunch, economical breakfast and dinner;
Enjoy the welfare benefits stipulated by the state (paid annual leave, state statutory holidays, etc.);
The company organizes various league building activities and enjoys such benefits as festival gifts and annual profit.
The Park provides shuttle bus service.
Free accommodation is provided during the internship.